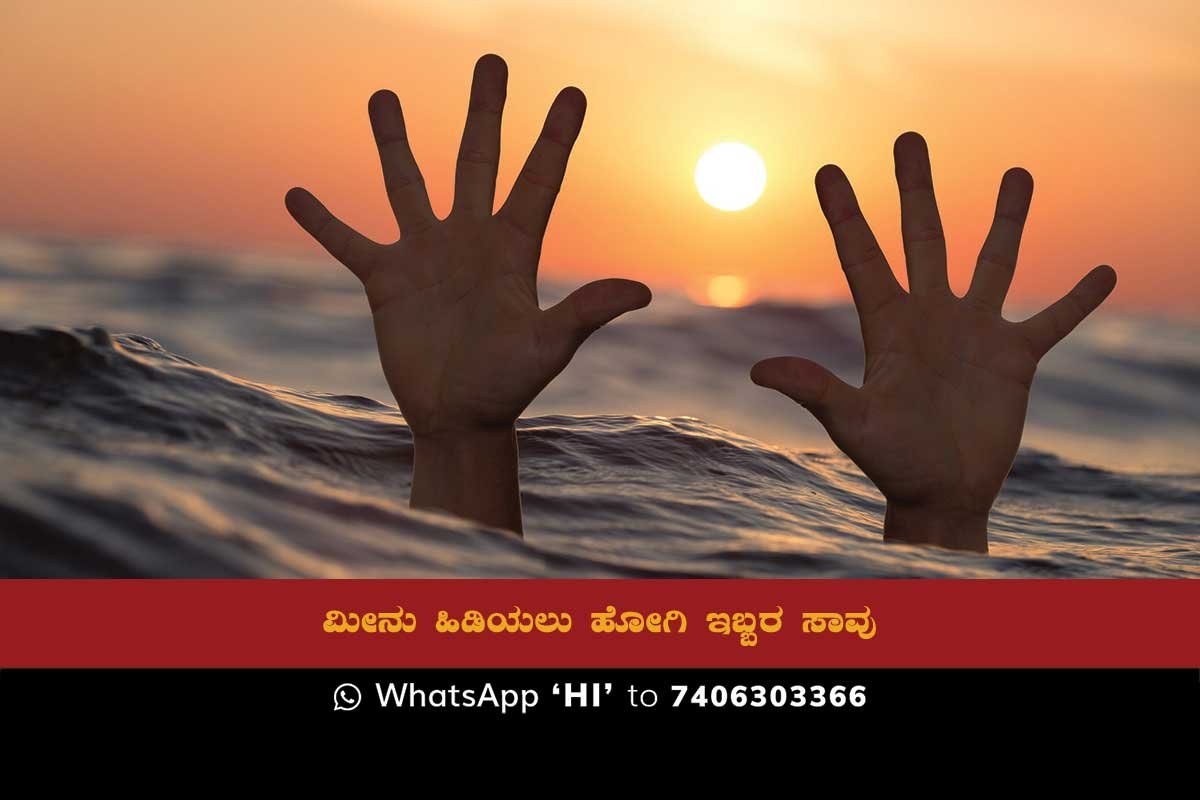 Talakayalabetta, Sidlaghatta : ಕೆರೆಯಲ್ಲಿ ಮೀನು ಹಿಡಿಯಲು ಹೋಗಿದ್ದು ಇಬ್ಬರು ವ್ಯಕ್ತಿಗಳು ನೀರಲ್ಲಿ ಮುಳುಗಿ ಮೃತಪಟ್ಟಿರುವ ಘಟನೆ ಶನಿವಾರ ತಾಲೂಕಿನ ತಲಕಾಯಲಬೆಟ್ಟ ಕೆರೆಯಲ್ಲಿ ನಡೆದಿದೆ.
ಮೃತರನ್ನು ತಾಲೂಕಿನ ಫಲಿಚೇರ್ಲು ಗ್ರಾಮದ ಮಂಜುನಾಥ್ (34), ಮಂಜುನಾಥ್ (28) ಎನ್ನಲಾಗಿದ್ದು ಮೃತರ ಪೈಕಿ ಓರ್ವನ ಮೃತದೇಹ ಪತ್ತೆಯಾಗಿದ್ದು ಮತ್ತೋರ್ವನ ಮೃತದೇಹದ ಹುಡುಕಾಟ ನಡೆಯುತ್ತಿದೆ.
ಮೀನು ಹಿಡಿಯಲೆಂದು ಬಲೆ ಬೀಸುವಾಗ ಬಲೆ ಕಾಲಿಗೆ ಸಿಲುಕಿ ಓರ್ವ ನೀರಿನಲ್ಲಿ ಬಿದ್ದಿದ್ದು ಕಂಡು ಅವನನ್ನು ಕಾಪಾಡಲು ನೀರಿಗೆ ಇಳಿದ ಮತ್ತೋರ್ವನು ಸಹ ಮೃತಪಟ್ಟಿದ್ದಾನೆ ಎನ್ನಲಾಗಿದೆ. ಮೃತದೇಹ ಪತ್ತೆಹಚ್ಚಲು ಅಗ್ನಿಶಾಮಕ ದಳದಿಂದ ಕಾರ್ಯಾಚರಣೆ ನಡೆಯುತ್ತಿದೆ.
ಸ್ಥಳಕ್ಕೆ ದಿಬ್ಬೂರಹಳ್ಳಿ ಠಾಣೆ ಪೊಲೀಸರು ಭೇಟಿ ನೀಡಿ ಪರಿಶೀಲನೆ ನಡೆಸಿ ಪ್ರಕರಣ ದಾಖಲಿಸಿಕೊಂಡಿದ್ದಾರೆ.
---
Two Drown in Talakayalabetta Lake during Fishing Trip
Talakayalabetta, Sidlaghatta : On Saturday, a tragic incident occurred at Talakayalabetta lake in a nearby taluk where two individuals drowned while fishing in the lake. The deceased have been identified as Manjunath (34) and Manjunath (28) from Falicherlu village in the taluk. Currently, the search for one of the deceased's body is still underway while the other has already been recovered.
Reports suggest that one of the individuals got caught in the net while throwing it to catch fish, leading to him falling into the water. The fire brigade is currently conducting an operation to locate the missing body.
Officials from the Dibburahalli police station have visited the scene and conducted an investigation, registering a case. This tragic incident serves as a reminder of the importance of taking proper safety measures while engaging in recreational activities.